For our I SHARE IT solutions, we use the smart bike lock I LOCK IT.
Because the Bluetooth lock can do much more than just secure bicycles!
The smart bike lock I LOCK IT is controlled completely keyless with the smartphone. With the I LOCK IT app, the bike lock is unlocked and locked at the touch of a button, and that fully motorized.
So the bike is secured just as quickly and easily as cars are these days.

To keep bike thieves on the run, a 110 dB loud alarm system is integrated. The optional GPS live tracking allows tracking the position of the bike in real time in case of theft.

In addition, I LOCK IT is expandable with practical accessories. Plug-in cables or chains are connected to I LOCK IT and secure the bike firmly to a bike stand.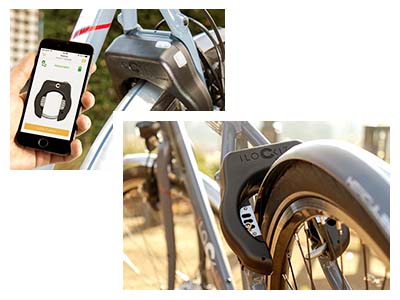 LONG BATTERY LIFE
EASY INSTALLATION
ROBUST AND SAVE
LIGHT AND COMPACT
110 dB ALARM
GPS LIVE TRACKING
More comfort in bicycle security
The control of I LOCK IT via smartphone with Bluetooth technology does not only bring relief in bicycle security for end users. I LOCK IT also offers massive advantages for use in bike sharing systems. That is why we have developed an I LOCK IT variant especially for I SHARE IT.

I LOCK IT has all the technical requirements to communicate with the smartphone and offers many more smart functionalities. No structural changes need to be made to your bikes to turn them into smart bikes for your sharing solution. All you need is I LOCK IT, on which our bike sharing solutions are based.
Over 15,000 I LOCK IT in use worldwide
I LOCK IT has been tried and tested many times around the world. It is in use for bike sharing programs of companies and organizations as well as for private bicycles in the end-user sector.

High security for bicycles
The smart alarm with 3D motion sensor technology detects vibrations in all directions. In case of unauthorized movement of the bike, the 110 dB loud alarm is triggered. I LOCK IT can optionally be equipped with GPS Live Tracking.

High flexibility for individual needs
As the developer and producer of I LOCK IT, we make individual adjustments ourselves. Possibilities would be, for example, an external power supply for the lock or control via UART.

Simple retrofitting
I LOCK IT has been designed to be compatible with most bicycle models. Retrofitting to existing bikes is therefore no problem.

Made in Germany
I LOCK IT is a quality product developed and manufactured in Germany. Therefore, you will also receive the best advice and support in German.
Mounting on the bike
I LOCK IT is designed to be compatible with most bicycle models. It is easily mounted in the mounting holes in the frame stays of the rear wheel. If there are no mounting holes on the bike, convenient installation adapters can be used.
I LOCK IT is compatible with almost all bicycle models.
I LOCK IT is compatible with all bicycle tires with a width less than 64mm.


The bicycle frame should have a distance of at least 44mm.


Almost all bike models are equipped with mounting holes on the bike frame as standard. However, mounting is no problem with installation adapters if there are no openings.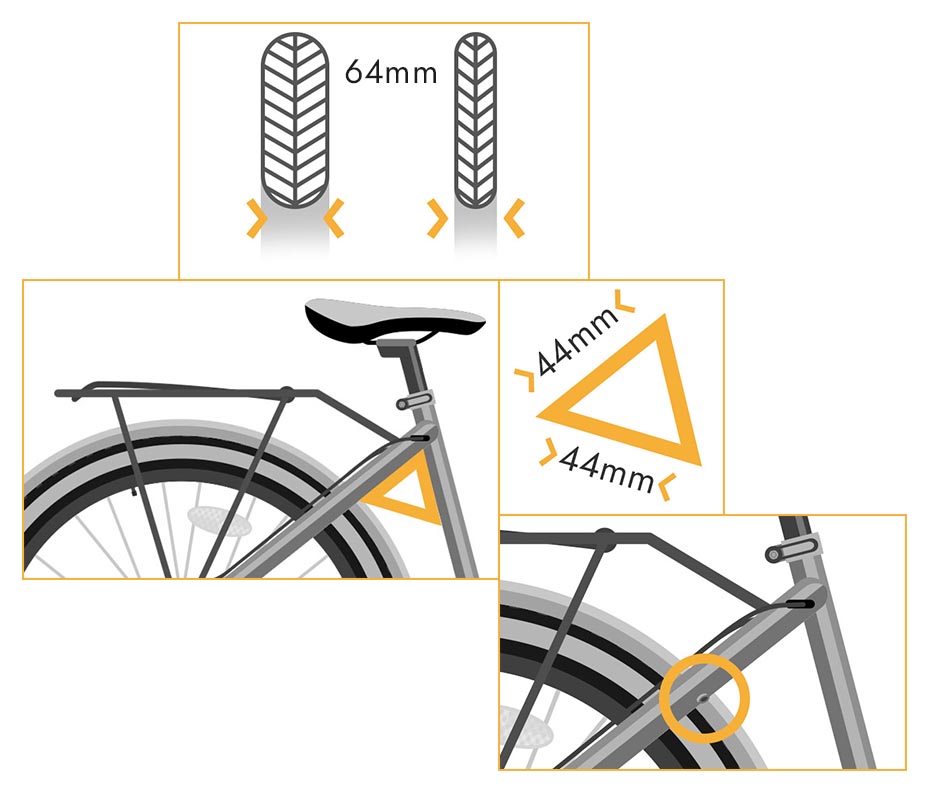 Technical Data
Size: 160mm × 148mm × 43mm
Max. width of tire: 64mm
Weight: ca. 350g
Connectivity: Bluetooth 4.0, GPRS 900 / 1800 MHz, GPS
Minimum system requirements: Android devices version 5 and above and iOS devices iPhone 5 and above
Connection: USB-C charging port
Case material: impact-resistant and robust plastic
8 mm hardened steel locking bolt
Comparison with other bike sharing locks
Below is a comparison between I LOCK IT and other bike locks available on the market for using in bike rental systems.
I LOCK IT

bike sharing version

Chinese

bike sharing locks

Expandable with plug-in chain / plug-in cable

Integrated GPS / GSM module

Dependent on external key server

Service 'opening without smartphone'

Permanent external power supply possible


Spoke-avoidance-system for easy locking