The I SHARE IT complete solution offers you a total system for your bike sharing offer in collaboration with professiional partners. Thanks to equipping your fleet with the smart lock I LOCK IT, your bikes become smart bikes that you can conveniently manage and organize digitally. At the same time, the app is also the digital key for the bikes. The user not only books the desired bike, he then also unlocks the bike lock I LOCK IT with his smartphone.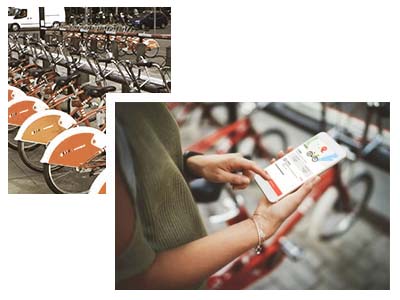 Discover how you can organize your mobility services flexibly and in line with the times with the I SHARE IT complete solution.

This solution is suitable, for example, for small to medium-sized companies, housing cooperatives and also tourist rental.
The benefits of the I SHARE IT complete solution:
The smart bike lock I LOCK IT brings everything with it
No complex measures on your bike fleet are necessary to set up your bike sharing offer! I LOCK IT offers all technical requirements and is compatible with most bike models.

Reliable partners and competent service
Choose the perfect software solution for your plans. Thanks to the cooperation with our partners, you will find the best system that ideally suits you and your needs.

Fast project start
It is easy to set up and quickly to go with a ready-made solution.
Digital bike lock I LOCK IT
The most important component of the I SHARE IT complete solution is the I LOCK IT bike lock. This provides protection against theft and enables authorized users to unlock the bike. I LOCK IT has all the technical requirements as well as Bluetooth Low Energy Technology to communicate with your bike sharing system. The lock is keyless operable and can be conveniently controlled with your smartphone.

With the I LOCK IT bike lock, the bike sharing solution has a smart bike lock that can be easily mounted on the existing bike fleet.
Fleet management system
In addition to the hardware, to operate your sharing system you need a web platform for easy and clear management and organization of bikes and users.
With our bike sharing platform, you can keep track of everything at all times:
Manage the bookings
Organize bikes and locations
Inform yourself about the system usage with statitics
The web platform provides you with everything you need to run your bike sharing system on site. User management and registration can be configured according to your needs. An optional payment module can also be used to define rental prices and payment methods for customers.

The web platform also supports you in maintenance planning for regular checks and repairs of your bike fleet.

All information comes together here! Here you receive an evaluation of all important data of your bike sharing system such as the number of bookings and users, the mileage of the fleet and the damage reports. This important information about the development will help you for the successful operation of your bike sharing.
Smartphone app for service
Your team can open and close I LOCK IT with the smartphone app for service. Maintenance work and repairs can therefore be carried out quickly and easily.
It is also possible to access the I LOCK IT locks and evaluate useful information.
Useful information about the usage of the bikes:
How often was the bike used.
Which employee last borrowed the bike.
How many different employees use the bike.
Smartphone app for your customers
Renting and returning bikes is easy using the smartphone app that comes with the I SHARE IT complete system. The app is available for iOS and Android devices and is available for free in the respective stores.
With the smartphone app, users of your system are able to:
Rent and return bikes
Book bikes in advance
Manage bookings
You are interested in our complete solution?
Then simply select the right partner for you from our numerous partner companies now and get in touch today.
Get to know our partners!
MOQO sees itself as a service provider of your bike sharing system. As a mobility provider, you and your company are in the foreground to build trust and sympathy with your customers. Therefore, MOQO takes a back seat as a brand and gives you a lot of design freedom for the smartphone app.
You can design the smartphone app in line with your corporate design. This way, you increase the recognition value among your customers and thus strengthen the brand of your bike sharing offer.
MOQO's software service provider presents a flexibly equipped software solution and is suitable for a wide range of applications. MOQO stands for the smooth work of the smartphone app and always keeps its application up to date with the latest technology. Data protection is also a very important matter. The web servers are located in a security data center in Europe and ensure the protection of your sensitive data.
Evemo`s claim is shared mobility for all. Since 2013, the company has made it its mission that the sustainable mobility of the future must be shared, multimodal and, if possible, electric. In doing so, they focus on simple handling, minimal effort and automated processes.
With evemo, you can become a mobility provider yourself in no time at all. In addition to conventional bicycles, e-bikes, pedelecs, cargo bikes and many more are also supported. Innovative ideas and individual requirements are also no problem.
The sharing app provides all the important functions for your customers, such as registration, booking and other mobility services. The app is also the digital key at the same time! In the provider portal, you have an overview of your fleet, bookings, can create user groups and have all the information for billing at a glance. In addition, the reporting offers you interesting information about your bike sharing system.
12DRIVE is the complete solution for a bike sharing system in your company. Simply order or lease the desired number of company bikes for your bike fleet. Discover the range of preconfigured fleet management, the app with logbook and the online booking system.
With the app, your customers can easily find and book bikes in your area. For allocation, you can set up virtual rental stations so that bikes can only be rented and returned at locations you specify with virtual geofence.
The management of your fleet is simple and clearly structured for you. There you have everything under control such as the activation of users, monitoring of the bikes and the utilization of your bike fleet. Damage, repairs and leasing contracts can also be easily monitored and documented.

Sharee offers individual bike-sharing concepts for bicycles, e-bikes and cargo bikes – starting at just one bike. Their goal is to close gaps that are not covered by the rental bike systems of the major providers.
The sharree.bike app and cloud-based booking system enables sharing operations for very different scenarios, such as cargo bike rentals in home or apartment communities, for company employees and delivery traffic, or a mobility offering in cities and towns for regional shopping and transportation, and much more.
The rental bike management system also has, in addition to managing your bike fleet, practical functions for marketing campaigns. You can easily offer discounts to your customers via email or SMS messaging.